Even in the most remote forests of India, turmeric has been a life saving medicine for me. For more than 5-years I was stationed in the field collecting data for my dissertation. I lived with a team at a remote field station at the Western Ghats. Ginger, cardamom, and turmeric plants grow here naturally. While trekking through those forests, one picked up leeches and ticks. For any of the readers who are not aware, these parasites suck human blood and leave wounds on the body. If not attended to, the wounds become infectious and cause severe health problems.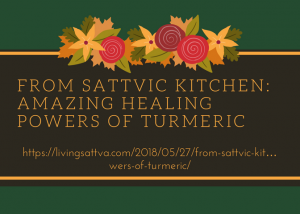 The leech has a special enzyme that neutralizes the blood clotting enzyme. That is perfect for the leech, it can simply go on drinking the blood and when it is bloated like a sack, it simply falls off. That is not good for humans because blood will continue to ooze out of the wound without the blood clotting enzyme. On numerous times we washed the wound with clean water and took a pinch of the golden turmeric and pressed in on the wound. In a few minutes, the bleeding came to a complete stop. Our wounds were also not infected. This video provides a short introduction to how leech functions— https://www.youtube.com/watch?v=3JZVvPjEH_E
Bug bites and turmeric—
Any bite on our body triggers a reaction known as inflammation. This inflammation is not just about the wound, but it is about the secondary infections that follow the bite. For example, a bug bites you and your reaction is to scratch the area. That opens the skin and creates a wound. This space is perfect for bacteria and virus to grow into it. Now the body must fight the effects of the bug and the toxins from bacteria. This leads to inflammation or pain or swelling. Turmeric is loaded with natural anti-bacterial properties. Using turmeric externally relieves both inflammation and pain. When we have a wound, bacteria that already live on our skin will be the first to enter the wound. Using turmeric is an effective way to neutralize the bacteria that grow in our body. In addition, turmeric has blood clotting properties as well. If there is an open wound, it helps to seal the flow of wound by helping to clot the blood. With the blood clot, further bleeding will be prevented. Turmeric is a great finisher! It heals the wounds so that there is no scarring and skin will be protected. Here is a short video that shows you how to remove ticks that are attached to your body—
https://youtu.be/1Na6_CORwTE
Make your own healing turmeric paste—
Here is the simple recipe for making the turmeric paste. Several grocery stores carry fresh turmeric. In this blog post, I provide the recipe for making healing turmeric paste from both fresh roots and powder.
Sattvic Healing Turmeric Paste from Fresh Roots
You need— 5 drops of distilled water 1 fresh organic, turmeric root 1 clean stone with rough surface To do—
Scrub and wash the turmeric root well. Ensure that there is no dirt on the root.
Similarly, wash the stone well. Use a scrubber and remove all dirt. Ensure that the stone does not crumble when rubbed.
Dab the stone and the root dry with a clean cloth or paper towels.
Place 3 drops of water on the stone and start rubbing the root. Add more drops if needed. You will get a paste after rubbing vigorously for 2 or 3 minutes.
Sattvic Healing Turmeric Paste from Powder
You need— 10 drops of distilled water 1 teaspoon organic turmeric powder 1 clean bowl to mix 1 clean spoon or toothpick To do—
In a clean bowl, place the turmeric powder.
Use the spoon or toothpick to make a well in the center.
Add drops of water and fold the turmeric powder from the sides.
Mix well until it has attained a pasty consistency. Add more drops of water if needed.
To apply—
Wash the wounded area with a little bit of warm salt water. Pat the wound dry.
Wash your hands thoroughly.
Apply the paste and let it dry. You can also blow on it for a few seconds.
If you are going to be travelling, apply gauze bandage over it and protect it.
Reapply as many times as you want.
Caution: The paste from turmeric root can stain your clothes and sheets.
From Sattvic Kitchen_ Amazing Healing Powers of Turmeric
Read more about the healing power of turmeric in this
blog
. You can make many
beauty aids
from turmeric in your kitchen! It is as even better than the chemical loaded stuff we buy from stores. This
blog post
shows you how to make your own beauty aids. Turmeric works on both men and women. Turmeric is safe to be used on children and pets too. Let me know if you have questions. If this blog post has been useful for you, please #share it. Thank you for stopping by!