What we keep in a Sattvic Kitchen are spices, an amazing beauty chest, and a pharmacy.
There is no room for hypocrisy in the sattvic kitchen.
Everything in the sattvic kitchen can be internally ingested, by adding to the food, and used as body scrub or beauty aids. 
Two staple ingredients in the sattvic pantry are regarded irreplaceable. Organic turmeric is precious and priceless. Living Sattva has posted numerous blog posts about Turmeric, the first ingredient. To know more about the health benefits of using turmeric, read this article. Turmeric can also be used as beauty aid as described in this post and post.
Here are some clues to help you guess the second ingredient. This plant has been grown in Indian subcontinent for more than 6000 years. It is an important part of sattvic diet. It is a versatile bean used to make anything sweet, savory, snacks and soup. Did you guess mung beans? You are correct!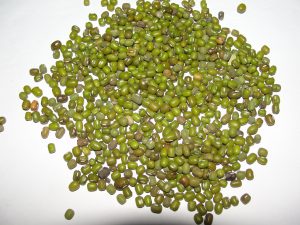 Moong Dal or Mung bean has been around forever in the Indian kitchen. It is extremely versatile and used in variety of recipes. It has a mild taste and is highly nutritious. This short video provides you with information on the health benefits of Moong Dal or Mung beans.
https://youtu.be/3lcfXf21dpo
Moong Dal is rich in #vitamins A and C. These vitamins keep our skin young, supple and bright. When combined with the extraordinary antibacterial properties of turmeric, the body scrub keeps the #skin in excellent condition. The other elements in this body scrub are useful for maintaining oil balance and cooling.
Recipe for Golden Body Scrub
You need—
1 cup moong dal powder
½ cup organic turmeric powder
¼ cup powdered, dried lemon or orange peel
1 tablespoon Himalayan pink salt
To make—
1.
In a dry, clean metal bowl, place moong dal powder, turmeric powder and lemon/ orange peel powder.
2.
In a coffee blender, add Himalayan pink salt and 4 tablespoons of the moong dal powder. Break it into fine powder.
3.
Add to the rest of the powders and mix very gently and thoroughly. If you mix vigorously, you will sneeze from the dust that comes up.
4.
Store in a dry air tight container at room temperature.
To use—
1.
In a bowl, mix one tablespoon of moong dal powder with 2 tablespoons of warm water. Set aside for 15 minutes for the citrusy flavors to blend.
2.
Apply warm coconut oil lightly over your body.
3.
Wet your body. Turn off the shower. Apply the body scrub starting with your face. Lightly massage with your fingertips as you apply.
4.
You can also apply this powder for your hair if you wish.
5.
Use lukewarm water to wash off the body scrub.
6.
Pat your skin dry.
Try this scrub on your #face if you have #acne or pimple problems. It is best to use it twice a day, once in the morning and once in the evening. Skip the coconut oil in your skin care routine if you have acne problem.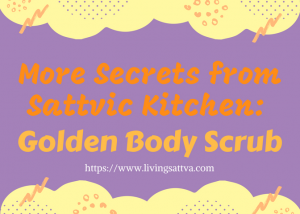 I can tell you how well this body scrub work has worked for me. I am born with a sensitive skin. Even today, by skin erupts into adverse reaction when I apply some chemical products such soaps, powder, lipstick etc. I have always used this body scrub and it has worked in excellent ways. I am glad that my mother and grandmother made me use this powder from a young age. I continue to use the body scrub recipe detailed in this blog. I have no acne problems and the oil balance of my skin is well controlled. The scrub is not meant to cure a sensitive skin or decrease our skin's reaction to harsh chemicals found in soap.  I can occasionally use glycerin soap and I do use tiny bit of soap on my hands.
#Nature gives us everything we need. When we approach nature with #friendliness and reverence many #secrets are revealed to us. These understandings form the underlying basis of sattvic #lifestyle. To know more about sattvic lifestyle, please subscribe to the blog for regular updates.
If you found this blog post useful, please #share with your family and friends. Thank you!