The month of May is National Mental Health Month. Ideally, you should take time every day to reconnect with yourself and find ways to take care of our mental health. By following the Sattvic Method you can support and discover new sustainable ways to maintain optimal mental health.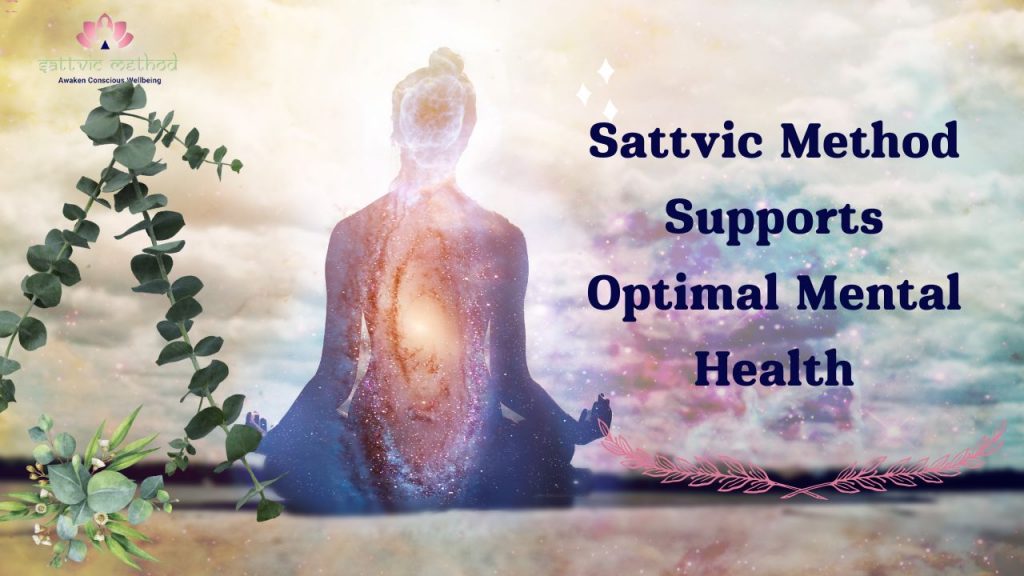 As you already know, ever since COVID-19 pandemic, mental health is being discussed more openly and with less stigma associated with it. The COVID-19 pandemic presented numerous mental health challenges for individuals worldwide. You or someone you know might have experienced some of the common mental health issues experienced during this time such as:
Increased anxiety and stress: There were lot of uncertainty surrounding the pandemic with updates about strains, confusion about the vaccines, fear of contracting the virus, concerns about the health of loved ones, balancing family's needs and health risk combined to produce heightened anxiety and stress levels.
Depression and feelings of isolation: Due to the strict social distancing measures, lock-downs, and restrictions on social activities every family and every individual in the family have experienced intense feelings of loneliness, isolation, and even depression. Because of limited social interaction, and intense disruption in daily routines, all members of the family from young to old members have experienced significant impact on mental well-being.
Grief and loss: Many people have experienced the loss of loved ones due to COVID-19, leading to unresolved grief and extended bereavement. The inability to properly observe the protocols set up for societal support, to mourn and to gather for funerals has added additional emotional strain. Young people are struggling with the staggering load of unspoken issues, and many are yet to find professional help to speak about it.
Financial and job-related stress: The economic impact of the pandemic has caused financial instability and job loss for many individuals. For many families, the loss of an adult was compounded by the additional stress of loss of income and thus access to food and safe living also declined. All these stressors contribute to anxiety, depression, and overall mental distress.
Disruption of daily life and routines: The disruption of normal routines, such as work, school, and social activities, has resulted in a loss of structure and sense of purpose. All this can lead to feelings of confusion, restlessness, and a sense of being adrift. The youth and the younger generation feel the disruption deeply.
Increased substance abuse: In some reports, there are difficult situations for some families as few individuals turned to alcohol, drugs, or other substances as a way to cope with stress, anxiety, distress, unrest, or simply the boredom due to inactivity during the pandemic. Unfortunately, this has led to substance abuse disorders, which only further exacerbate mental health challenges.
Access to mental health services: With limited in-person therapy sessions available, the pandemic created barriers to accessing mental health services. Further, many adults lost jobs causing individuals to face challenges in seeking help due to financial constraints or lack of resources.
Heightened levels of burnout: Frontline healthcare workers, essential workers, and caregivers have faced immense pressure and increased workloads during the pandemic. Adults at home, especially Mothers experienced immense pressure to become 'supermoms' leading to high levels of burnout and mental exhaustion.
With this background it is time to highlight the importance of mental health for the sake of everyone. The Sattvic Method helps by setting up your routine and lifestyle to address many of these concerns. By following the Sattvic Method, you can prioritize mental health during these challenging times. Seeking support from mental health professionals, maintaining social connections virtually, practicing self-care, and engaging in stress-reducing activities can help individuals cope with the mental health challenges posed by the COVID-19 pandemic.
Taking care of mental health is crucial for overall well-being and can be achieved through various strategies. Here are some effective ways individuals and families can prioritize their mental health by following the Sattvic Method:
Seek social support: In Sattvic Method, you are encouraged to seek out your own network that is strong and meaningful. In addition, you can maintain strong connections with friends, family, and loved ones who support you and encourage you. Another type of social activity supported by Sattvic Method is group activities such as meditation, devotional singing, or visiting sacred spaces. Participating or visiting these spaces can have a tremendous positive impact on you. Even if you do not engage in these social activities, being in the sacred space helps you to make supportive connections when you need to reach out for help, and also provides you with opportunities to foster meaningful relationships.
Practice self-care: One of the best ways to take care of mental health is to dedicate time for self-care activities that promote relaxation and stress reduction. The Sattvic Method supports individuals, families, and communities to regularly practice activities such as meditation, deep breathing exercises, journaling, taking baths, engaging in activities that enrich the mind-body connections, and spending time in nature.
Maintain a balanced lifestyle: By following the Sattvic Method, you can develop a balanced routine that incorporates healthy habits. You can get enough sleep, eat a nutritious diet, fast routinely, exercise and meditate regularly. Also, you will follow a celebratory lifestyle by following the celebrations that have deep spiritual meanings.
Manage stress effectively: In the Sattvic Method, through self-awareness you develop through meditation, you will learn to identify and address stressors in your life. By developing a robust routine, you will be able to manage stress, perform actions in a timely manner, prioritize tasks for the day, set boundaries, and practice mindfulness to reduce stress levels.
Practice good emotional hygiene: The sattvic Method also teaches you to pay attention to your emotional well-being and practice self-compassion. Practices in the Sattvic Method remind us that emotions are a part of us and our response to our inner and outer world. You will learn to express and experience the full range of your emotions through your daily routine and practices. You can also seek professional help if needed.
Engage in physical activity: The Sattvic Method is an intensely active practice that encourages regular exercise, such as yoga, walking, jogging, or swimming. Studies show that any form of exercise can have positive effects on mental health by reducing stress, improving mood, and increasing endorphin release.
Maintain a healthy work-life balance: The Sattvic Method teaches you to set boundaries between your emotions and habits, work and personal life, and goals and ambitions. You can learn to increase productivity by choosing your optimal leisure time, find time to engage in activities outside of work, and take active breaks to avoid burnout.
Limit media consumption: One of the significant benefits of the Sattvic Method is its requirement to be mindful of the amount and type of media you consume. In general, the Sattvic Method places greater emphasis on exploring the inner self and limiting your exposure to sensationalized, serialized, negative news or social media that may add to your stress or anxiety.
Practice gratitude and positive thinking: The Sattvic Method is a life-positive method which helps you to cultivate a positive mindset by focusing on gratitude as the means to build more. You can also engage in creative activities such as gardening, or creating art that brings joy and fosters a sense of fulfillment.
Find your tribe: When you meditate as a group, your group energy will be higher than the energies of any single individual. It also reduces loneliness and increases your sense of joy. You can sign up for free monthly programs offered by The Sattvic method such as Masik Shivaratri meditation and chanting. Watch out for information on upcoming meditation programs. Reach out to us with any questions.
Remember that your mental health journey is unique, and it's important to identify, acknowledge, and find strategies that work best for you. If you or someone you know is experiencing severe mental health concerns, reach out to a mental health professional or a helpline in your country for assistance.
It's important to remember that self-care looks different for everyone, so it may take some trial and error to find what works best for you. Additionally, while self-care is important for maintaining good mental health, it is not a substitute for professional treatment if you are experiencing symptoms of a mental illness.
The Sattvic Method offers prayers for everyone to experience peace and auspiciousness-
लोकास्समस्तास्सुखिनो भवन्तु ।
lokā samastā sukhino bhavantu
May all the worlds experience joy.