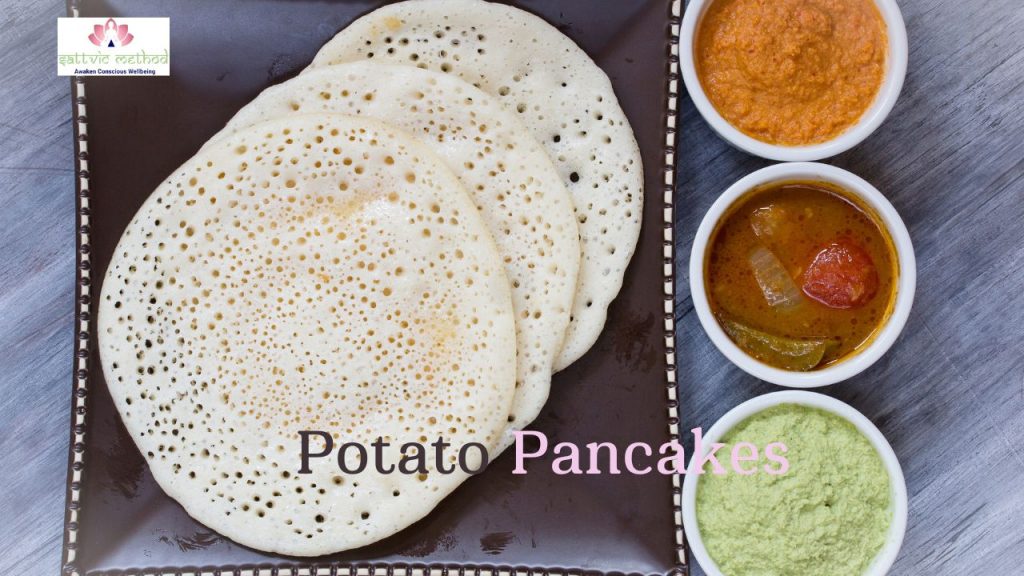 Potato pancakes are easy to make for an instant meal. They are filling and favorite foods. Increase fiber intake and nutritional value by adding chia seeds or more lentils. You can also make a filling potato pancake with this recipe.
You Need:
1. 1 cup rice flour
2. 1/2 cup lentil powder
3. 3 cups potato flakes or mashed potatoes
4. 1/2 cup chopped cabbage
5. 1 cup chopped cilantro
6. 2 tablespoon grated ginger
7. 1 teaspoon salt
8. 1 cup vegan yogurt
9. 1 cup water
To Make:
1. Assemble all the dry ingredients in a bowl and mix well by hand.
2. Add water and yogurt. Stir well with a spoon.
3. Cover and set aside for 30-45 minutes. You can also leave this overnight. If you leave it overnight refrigerate the dough the next day.
4. Grease a pan and add a ladle of dough. Quickly spread the batter in a circular motion.
5. Cover and cook for about 3 minutes. Flip over.
6. Serve warm.
Here is the video link for the recipe.
Serving Suggestions:
Serve with carrot chutney, chickpea stew, Millet mango Congee, Ghee
If you like pancakes, try our other recipes for Dosa and idli. Subscribe to our Youtube channel for more.