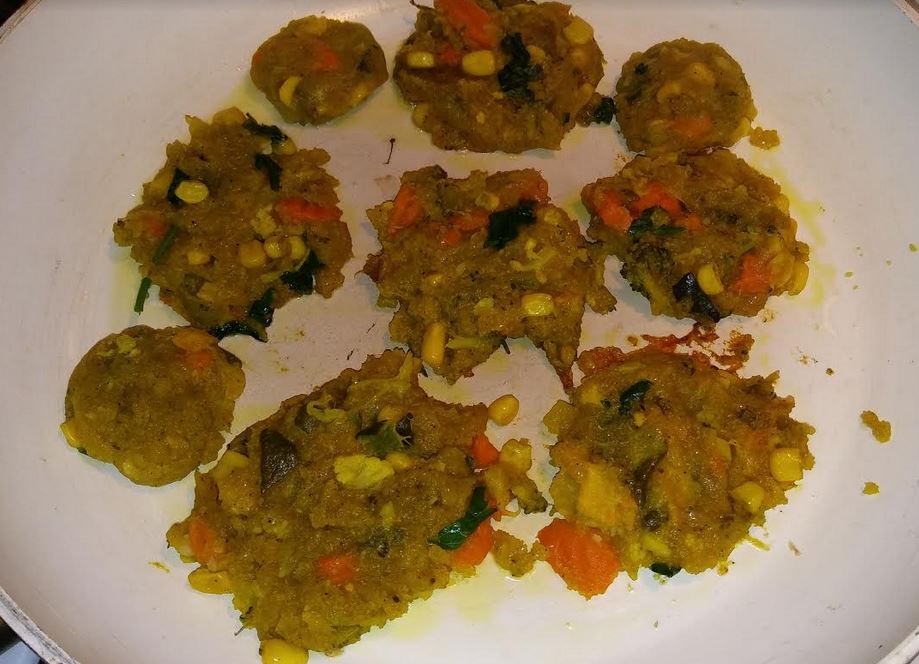 Sattvic Vegan Hash Brown



You need:
1 medium sized potato
1 cup pumpkin or cucumber or Zucchini
2 cups mixed vegetables
½ teaspoon Himalayan Pink Salt
1 teaspoon turmeric
1 teaspoon jeera powder
1 teaspoon dhania powder
1 teaspoon amchur
1tablesppon grated ginger
1 tablespoon chopped cilantro
3 tablespoon coconut (optional)
3 tablespoon coconut oil
½ cup corn meal (if gluten free) or farina (rava)
To make:
Cut the potato, pumpkin or zucchini or cucumber into bite size pieces.
Wash thoroughly and add in a pot with 1 cup water. Add salt and turmeric.
Stir in all the vegetables. Cover and cook on medium heat for 15 minutes.
When the vegetables are tender, add jeera,dhania, amchur and grated ginger. Add chopped cilantro. Stir well cover and cook for 5 minutes.
Add oil, coconut and corn meal. Stir vigorously to remove any lumps. Allow to cool to room temperature.
Shape the cool mixture into patties. Put it on a greased saucepan and flip the sides after 3 minutes.
Serve with Vegan yogurt or peanut chutney or carrot chutney or tomato sauce.