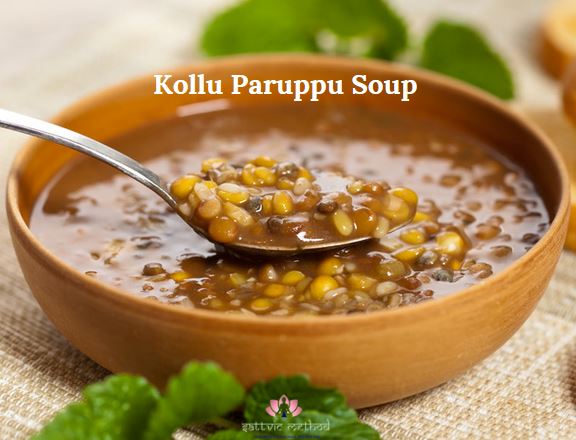 கொல்லுப்பூர் (Kollu Payar) also known as Kollu Paruppu is a popular food with ancient roots. Kollu Payar was the staple #protein lentil from the Kongu Nadu region of Tamil Nadu in ancient times. Horse gram is a #superfood with multiple uses in traditional medicinal systems.
The folk medicine recognizes Kollu Payar as a potential therapeutic agent to treat kidney stones, urinary diseases, piles, common cold, throat infection, fever, lowering cholesterol levels, and blood sugar levels. In some instances, horse gram water is prescribed for cleaning the liver and thus treating jaundice.
This recipe for Kollu Paruppu soup uses horse gram, which has a nutty flavor that pairs well with other traditional dishes made in India. Serve with idli, dosa, roti, or rice. This recipe will guide you make tasty Kollu Paruppu soup at home.
Horse gram is also known as Kollu payar or Kollu Paruppu in Tamil. It is an excellent source of protein and fiber. Follow this recipe to make delicious Kollu Paruppu soup.
You Need:
Kollu paruppu– 1 cup
Water -2 cups
Castor oil – ½ tablespoon
Tomato – 1 large, chopped
Turmeric powder – ½ teaspoon
Red chilli flakes – 3 teaspoons (or more)
Curry leaves – 1 sprig
Ginger – 4 tablespoons
Cumin seeds – ½ teaspoon
Coriander seeds – 1 teaspoon
Salt- to taste
To Do:
Wash the horse gram thoroughly.
Place in Instapot or pressure cooker with water, castor oil, turmeric powder, chopped tomato.
If you are using a pressure cooker cook the Kollu Paruppu up to 3 whistles.
For Instapot, choose 15 minutes lentil or soup setting.
Stovetop method: Add 3 cups of water, bring it to boil and add washed Kollu Paruppu, castor oil and chopped tomato. Add turmeric powder when kollu paruppu is half-cooked.
To the hot Kollu Paruppu, add curry leaves, cumin seeds, coriander seeds, salt.
Cover and allow it to cool for 10 minutes or so.
Place in a blender and blend into a semi coarse paste using the saved water.
Drizzle with coconut oil or ghee while serving.
Video link:
This recipe is easy to make at home. You just need to boil the kollu paruppu first before adding the other ingredients.